VIRTUAL
Homeschooling Leadership Summit
Summit Content Now Available on Demand!


The Homeschooling Leadership Summit
was presented LIVE with
United States Secretary of Education
Betsy DeVos
on Tuesday, August 18, 2020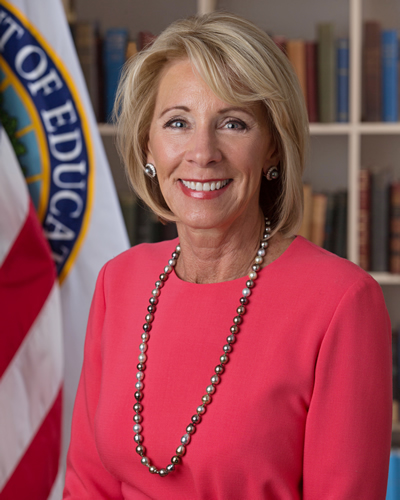 Session One:
Livestream with Secretary DeVos
Session Two:
Learn How to Invest in the Homeschool Community
Homeschool Community Foundation Grants Program
Homeschooling has provided millions of K-12 students with a quality education, despite a lack of significant external funding beyond the individual family. HCF has a vision, however, for providing programs that will greatly improve the experience and make resources more readily available for more parents and their students. A significant fundraising effort will be necessary to fund these projects because homeschooling has not developed funding sources in the past, and the community foundation model is well suited to building this capacity.
Session Two describes the fundraising and grant-making mechanics, and later sessions will present and develop the primary programs that will be catalysts for healthy growth.
Examples of Homeschool Recource Centers
Firmly Planted
Homeschool Resource Center 
Vancouver, WA
FEAST
Resource Center
San Antonio, TX
SCAIHS
Resource Center
Columbia, SC
Homeschool Resource Centers provide classes, field-trips, special events, tutoring, and hands-on learning for students.
Parents find support at Homeschool Resource Centers through workshops, counseling, curriculum displays, classes, and networking events.
Session Three:
An Online Homeschool Hub
The Homeschool Hub
Homeschooling groups and resources are often developed by families associating with those who hold similar educational philosophies or religious beliefs. A negative side effect to this practice is the compartmentalizing of the homeschooling community.  Homeschooling parents are not easily able to identify, communicate with, and collaborate with each other, nor are homeschool students and graduates.  Additionally, homeschoolers need to be able to easily locate available resources and marketplace options.
These issues can be remedied using a single community platform dedicated to homeschooling communications. This Hub concept, utilized by many universities, would provide homeschoolers with opportunities to work together, and to create a large homeschooling marketplace that businesses would advertise in and sponsor. An online Homeschool Hub would provide a tremendous boost to the community nationwide, as well as on a local and regional level.
Session Four:
A Homeschooling Innovation Center
A Homeschooling Innovation Center
An Innovation Center for Homeschooling at a major university would promote growth and support for homeschooling, and provide a home for research and study of the field of homeschooling. The Innovation Center would also create a focus for further development of the nationwide movement, as well as a focus for fundraising.  An example in the broader field of school choice is the University of Arkansas School of Education, which studies and promotes school choice in its Department of Education Reform, funded by the Walton Family Foundation and other school choice foundations.
Session Five:
Why Give through the Homeschool Community Foundation?
The Alliance and HCF

The Alliance and HCF have identified several transformational projects that will propel homeschooling into the mainstream as a viable school choice for hundreds of thousands of new parents and students to consider. The Alliance represents 32 years of experience in coordinating and training state leaders of the homeschooling movement. With the network of over 200,000 families in more than 42 states, this team has the capacity to accomplish this vision successfully.

Marie and David Hazell
My Father's World
Robert Bortins of Classical Conversations
Grand Canyon University
BJU Press Homeschool
Andrew Pudewa of Institute for Excellence in Writing

Mary Ann & Bruce Eagleson
Debbie & Walter Mueller
Holly & Raymond Sheen
Linda & David Watkins